Organic chemistry of biobased building blocks
We do fundamental research in organic chemistry using molecules and material that nature provides, the biobased building blocks. Our overall mission is to deliver clean, atom-and step-efficient one-pot syntheses for sustainable production of molecular diverse and structurally complex organic molecules tailored towards higher added-value in materials, medicines and catalysts.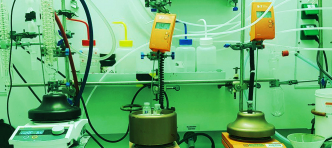 To allow the synthesis of molecules with supreme complexity and with a plethora of specific functions, nature has evolved its synthetic tools over billions of years with high levels of efficiency and elegance. Our research is inspired by nature's approach but takes a next step finding efficient synthetic methodologies and strategies that out-perform processes in biology while taking advantage from the broad range of functionalities available in biobased building blocks.
To achieve our mission we focus on cascade syntheses, sustainable catalysis and multicomponent reactions. The robust cascade sequences are based on in-house MCRs using diversity and biology oriented design strategies. Rapid complexity generation and advanced scaffold diversification are combined with sustainable catalysis addressing selectivity, efficiency and potential scale-up.
This is elaborated in the following research lines:
Main research focus is on the design of polymer materials with tunable properties exploiting the functionality of biobased building blocks.
This is enabled by the synthesis of new functional (co)polymers with a variety of architectures (homopolymers, block copolymers, graft copolymers, random copolymers) via different chemistries (organic chemistry, controlled or free radical polymerisation, ring-opening polymerisation, cationic polymerisation, step-growth polymerizsation, polymer modification, or a combination of them)
and the study of their structure-property relationships in several fields of application e.g. stimuli-responsive polymers, coatings, fibres, engineering plastics, hydrogels.
Growing focus on the use of artificial intelligence techniques to support the experimental work, e.g. data interpretation and prediction of structure-property relationships.
Learning from nature to synthesize peptides and proteinsBIOCOMEM – Bio-based copolymers for membrane end products for gas separations


In this project, we propose an alternative peptide and protein synthesis strategy, inspired by nature, which develops the field in a more sustainable way.
Bioorganic Chemistry (MSc Biobased Materials; coordinator)

Plant Derived Materials (MSc Biobased Materials; Lecturer)

Carbohydrates (MSc Biobased Materials; Guest Lecturer)

Supervision of BSc & MSc-research projects