Beauti-Fully Biobased Fibres
The objective of the Beauti-Fully Biobased Fibres project is to develop sustainable, renewable colourants with improved light fastness and colour intensity for colouration of (biobased) man-made textile fibres.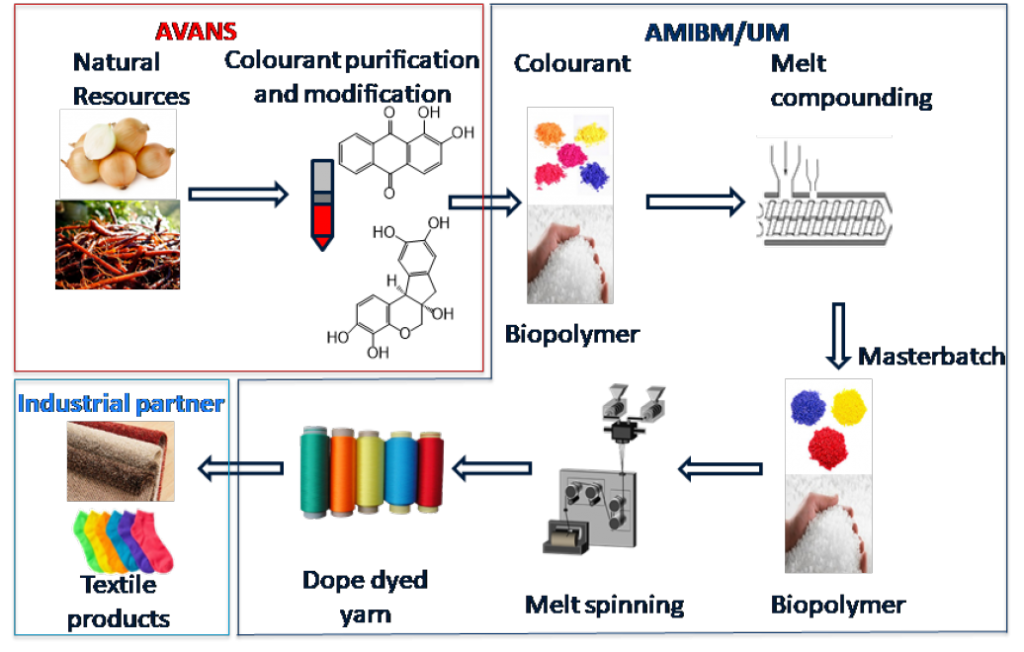 Specific approaches such as refining natural extracts, encapsulation and novel chemical modification of nano-particle surfaces with chromophores are used in this project for designing sustainable, renewable colourants with the improved quality aspects of light fastness and intensity as required in the textile industry. A biobased polyamide is used to test the developed colourants and a carpet demonstrator would be developed.
Colourants are one of the most commonly used additive in the textile field and dyeing is a process used to produce coloured textile products. Bath dyeing is conventionally used, where the textile products are dyed using a liquid bath containing colourant. However, it is projected that 10-25% of textile dyes are lost during the dyeing process, and 2-20% are directly discharged as aqueous effluents in different environmental components and so textile industry is regarded as the second greatest polluter of clean water. Dope dying is an alternative process in which the colorant is added to the polymer before the melt spinning process, which makes it environmentally friendly.
The European textile industry has taken significant steps taken in developing sustainable manufacturing processes and materials for example in water treatment and the development of biobased and recycled fibres. However, the same cannot be said for sustainable colourants. The limited range of alternative natural colourants that is available often fail the desired intensity and light stability and are not provided at the affordable cost.
Beauti-Fully Biobased Fibres is a project in which various partners are actively collaborating to search for alternatives to make dope dyed biopolymer fibres and is funded by the RAAK PRO program.
The consortium is made up of:
AMIBM from Maastricht University

Avans University of Applied Science

Zuyd University of Applied Sciences

Wageningen University and Research
Representatives from the textile industry such as:
Modint

Contactgroep Textiel

Bodewes Materials Solutions
Industrial partners include:
Ecological

Textiles

Desso

Innofa

Rinos